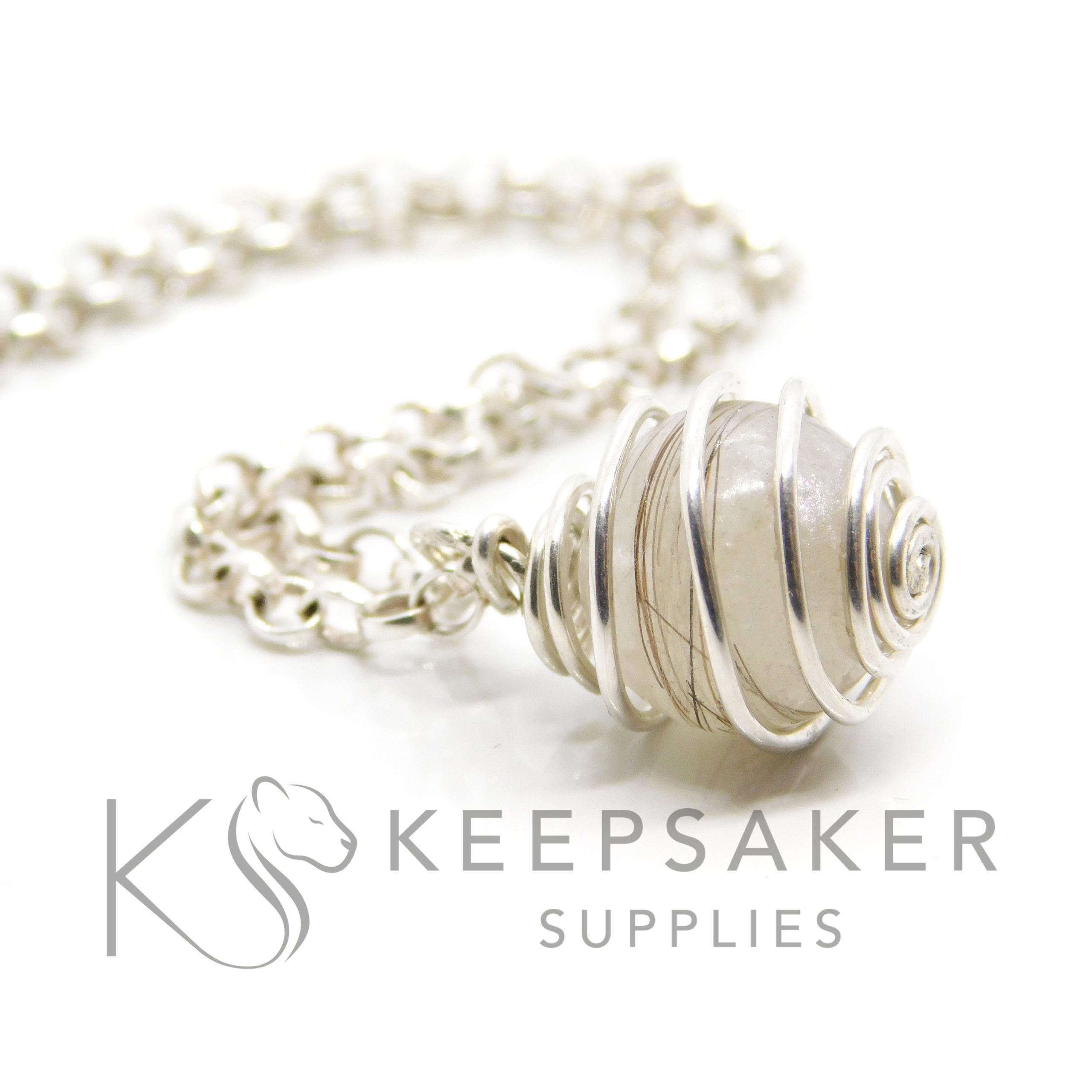 Making A Hair and Breastmilk Orb in a Cagetutorial. Learn how to make breastmilk jewellery using a silicone mould. I'm also showing you how to wire wrap cage for a sphere, orb or pearl. Recently I've created two free courses to help people learn how to make breastmilk and memorial jewellery – click here to register and take them! This video is a sneak preview of our Advanced Memorial Jewellery Course, look out for pre-registration.
Use a nice shiny mould to try to prevent needing a UV top coat, and make sure the colour isn't too opaque if you're working with UV so it cures in the middle.
Making A Hair and Breastmilk Orb in a Cage with Beachball Resin Technique Tutorial Video
Please note, my own video with full tutorial for the breastmilk and hair orb (with the option to add ashes/cord) will come soon – Nikki 🙂
You'll need the following supplies
the client's ground preserved breastmilk and lock of hair

a breastmilk orb cage kit – containing 20cm 0.8mm silver wire, 1.3mm 18″ silver necklace chain, single 10mm sphere mould, silver polishing cloth, 1x pair of vinyl gloves, a dust mask, 3 cocktail sticks, resin sparkle mix sample (random colour) AND pearly sparkle mix, precious metal leaf, opalescent flakes, tiny flowers sample, 10g bottle of UV resin, some sandpaper, label backing paper, 1x sachet Breastmilk Preservation Powder
Tools and Equipment (optional)
RECEIVING BREASTMILK
As usual, have your client post you two 5ml tubes of breastmilk and freeze them until you're ready to preserve the milk. Preserve and dry the milk being careful to keep it well-labelled, store with silica gel packets. Grind a small amount of the milk and keep that with a fresh silica gel packet.
PREPARING MILK
Add a few tiny spoonsful of preserved dried milk to a pestle and mortar and grind gently to break up any large flecks. Keep grinding for five minutes, if you still have 
Take some label backing paper and add a drop of UV resin, some ashes and some resin sparkle mix. Wipe the tiny spoon in between with a biodegradable baby wipe to prevent ashes getting in the sparkle mix. The quantities or ratio you use is completely up to you as an artist and with practice you'll work out what cures nicely and what works for you. Mix a little with a cocktail stick and this is your coloured ashes paste.
FILLING THE MOULD
Fill your water clear silicone mould with resin, they're available from Keepsaker Supplies. Use the cocktail stick to transfer some paste on top then poke it into the resin. Be super careful not to poke the mould itself or you'll mark it and you'll get imperfections in the finished orbs!
If you bring the colour all the way round the outside of the orb and it's opaque you might find it doesn't cure inside. Instead, I like to use a technique I call the Beachball Resin Technique. In this photo you can see it much clearer, where you swipe the colour out. From the outside it looks like a beachball, and from the bottom it looks a bit like a star. The clear resin in between the swipes cures perfectly, and you get full colour coverage with a beautiful translucency. Clients absolutely love it.
The resin should be flush with the bottom of the pouring spout, slightly underfilled is easier but not too much of a dip. You may have a few large bubbles which you can fish out with the cocktail stick and a little bit of patience. 
PROOF PHOTOS
I had a feeling (intuition) that I should make an orb for Emily with gold-filled leaf. I don't think it's wasteful because you will always return all of the unused blanks you make, and it gave her the choice.
After you make each orb, put it in the UV nail lamp for a 99 second low heat cure, then add the next and the next. I like to cure them at least three or four times each, turning after each cure. Whilst they're in, put away the client's ashes and clean your workstation.
Once the orbs have completely cooled down, and don't be tempted to touch them to check, you can remove the spheres from the mould. Arrange them somewhere you can take a photo for your client to make a choice and send them a photo.
FINISHING AN ORB
To finish an orb in the Making A Hair and Breastmilk Orb in a Cage, cut away the excess with side cutting pliers then sand with a diamond file. If you need to finish it, you can rest it on some WhiteTack and add a drop of resin and cure to dome it.
Use a black Sharpie pen to make a dot right in the centre of the pouring hole. Put it in the pearl drill or try your best to drill by eye. The pearl drill guarantees the hole goes straight through! Put the headpin through, if it comes out the end with liquid on that means it's not fully cured in the centre. you'll need a headpin wide enough to cover the pouring hole and we have these solid 9ct yellow or rose gold domed deadpins on Keepsaker Supplies.
Use round nose pliers to bend back the pin a little above the base, then bend it round the pliers to form a loop. Then wrap the pin around, working down to the base. I like to snip it off just where the bend finishes (before the straight end) before I tuck it in, but you can just tuck it in without cutting if you like. I decided to make Emily's second choice into a piece of jewellery too with a gold vermeil ball headpin. I was completely happy with how the order turned out. This video will be part of our new Advanced Memorial Jewellery Course and if you want a taster of the course you can take our free Basic Memorial Jewellery Course.
Making A Hair and Breastmilk Orb in a Cage
If you have any questions at all about this How To Make An Ashes Orb, please comment below or on the video. I'm so grateful to anyone who can subscribe to my YouTube because it really helps me to be able to bring you more tutorials.
Nikki
pronouns – they/them