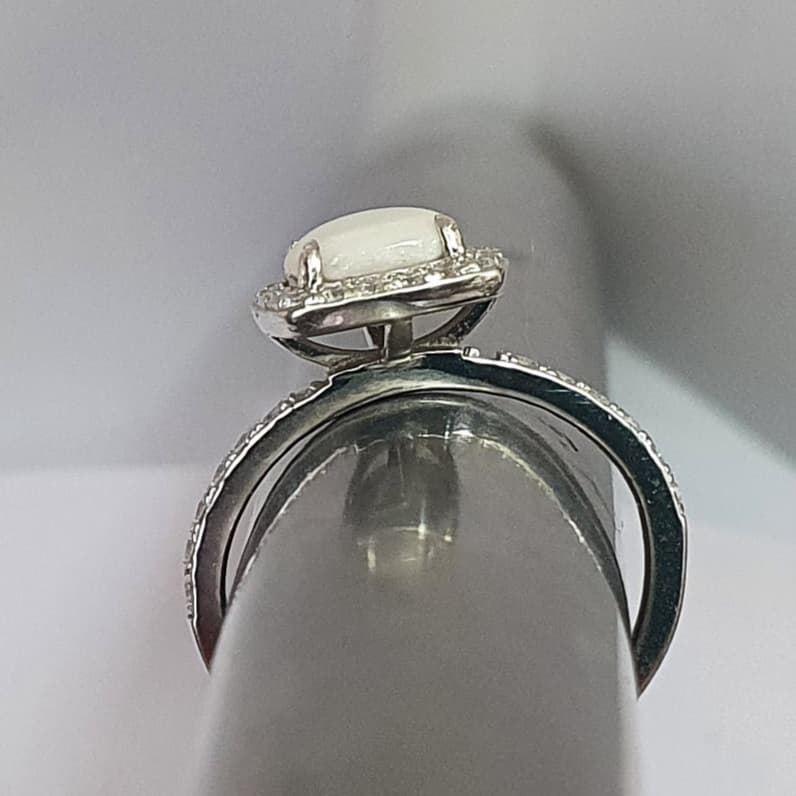 Are you considering working with pavé settings for breastmilk jewellery? Viki Rudkin from Cumbria Life Casting is here to give you some pointers.
Pavé set halo settings are a hugely popular and modern design. The accent of extra sparkle works beautifully alongside breastmilk, cremation ashes and hair stones, helping them sparkle and optimise their beauty. If you are considering working with pavé settings there are a few things you should take into consideration as these beautiful designs often need more care and maintenance than other styles.
What Are Pavé Settings?
Pavé settings are when many stones are set closely together in this fashion, roughly 1 millimetre (0.039 in) apart,[7] covering a surface, this is known as a "pavé" setting, from the French for "paved" or "cobblestoned".
Working With Pavé Settings for Breastmilk Jewellery
Due to the delicate nature of these settings, it can be quite a common occurrence for clients to lose accent stones. You can replace the stones with some fairly specialised equipment. We do this under a jewellers microscope by redrilling the seat and beads which hold the stone in. Unfortunately, if you use settings that you have taken the original stone out of, then replaces with a resin stone with your client's breastmilk or cremation ashes, you will always struggle with stones falling out. The large main prongs have the job of keeping all the other tiny beads and therefore stones in position. Once you've moved these you've then compromised all the accent stones. The metal holding the stones in is not meant to be moved. Best practice is to have your settings cast and to cut the seat into the prongs using burs or files to exactly replicate the shape of your stone.*
Setting your stone this way means minimal movement of the larger prongs and will ensure your resin stone is safely held in place and protected from damage as best as possible. Some things to take into consideration when offering this style is that resizing rings after they have been made can be extremely tricky and is not recommended. They are not suitable for cleaning in an ultrasonic cleaner either. We do not recommend pavé settings for everyday wear or for those who lead an active lifestyle. The beads of metal that hold the accent stones in place can be damaged by being knocked hard, or if a piece is badly misshapen in an accident repairs can be much harder. We also recommend that clients send their pieces in around every 12 months for maintenance so we can check for any damaged prongs or other issues. Check out some YouTube videos on setting pavé stones, or when restrictions allow there are some amazing courses that can teach you this kind of stone setting. If you are uncomfortable working with pavé settings we specialise in this area and have a huge variety for clients to choose from at www.cumbrialifecasting.com
Viki Rudkin
Working With Pavé Settings for Breastmilk Jewellery
*Please note, at Keepsaker Supplies we don't recommend working with prong settings as the stone with your client's elements (such breastmilk or ashes). The stone would need to have a perfect finish around the bottom, which is very hard to achieve. Also, the edges of the stone are prone to damage and chipping as the resin is not as hardwearing as other stones for which prong settings are intended. We find that customers using prong settings will get clients damaging the main stones too!