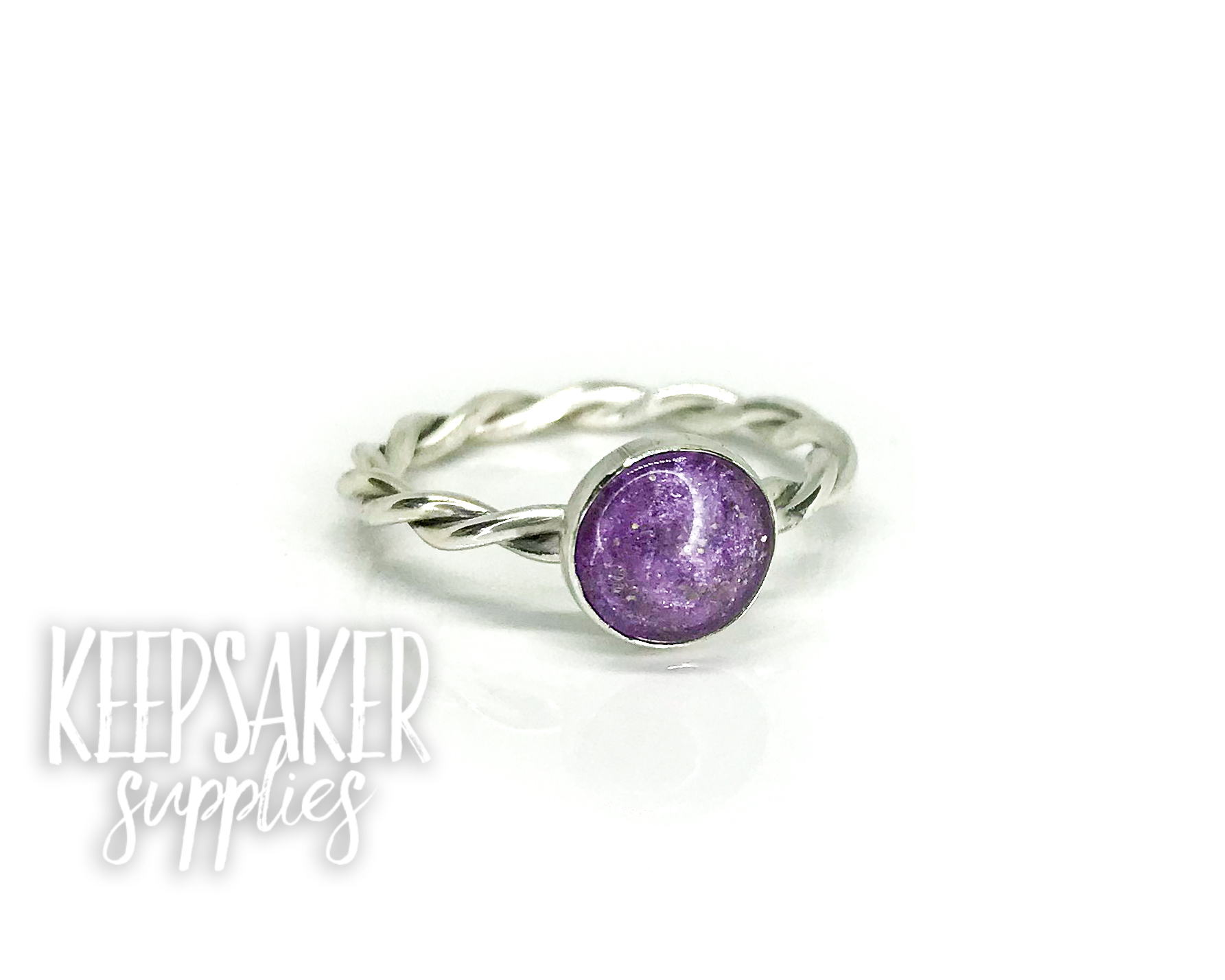 Filled v's Rubover Cabochon Settings pros and cons, filling a setting is much easier and a rubover setting gives more scope for error and is more durable. You might enjoy reading my blog on Etsy Settings here and my own settings are here, some are suitable for filling and rubover setting using a mould. You can read my blog series on making breastmilk jewellery here, making cremation ashes jewellery here and making lock of hair and fur jewellery. Working with ashes is similar to working with sand, or dried crushed umbilical cord or placenta so the advice is pretty much the same for those.
Filled Settings or Direct Pour
Filling a jewellery setting with resin is very easy if you can find the correct setting – our settings here can be poured directly. You just drip a little resin into the setting at a time, curing in between layers. You can use a two-part epoxy resin kit like this and 3ml pipettes. You can work in a single layer but you won't achieve any depth to the piece. Here are our blogs on direct pours
This video I made shows you how to make an umbilical cord and breastmilk ring with pearly purple breastmilk sparkle mix and our exclusive Ayla ring setting using a direct pour method

This video by Mona at CraftKlatch (oh my goodness, I love her videos – definitely worth subscribing!) she's working with ashes from her fireplace, I believe, and two part epoxy resin. Personally I prefer to always work with UV resin like ours here, because I'm a) impatient and b) allergic to epoxy. It cures in seconds so you can fill a setting in minutes working in thin layers. Always finish with a clear layer (known as "doming" the piece) to give it a nice shine and magnify the colours, and to round off the piece.

You can also use an "open backed" setting and the first piece I ever made was an open backed round bronze bezel with my baby's placenta, which I'd already cured in a flat heart shape. I placed some packing tape on the back of the bezel, stuck the heart on then covered in resin. Once it cured, I removed the tape and domed the side where the tape had been. I was on national TV in 2017 on a programme called This Morning, and one of the presenters Holly Willoughby said how much she loved that piece!
Back in 2015 when I first started Tree of Opals, I worked with China Cheapies like these on AliExpress – you can get them here on Amazon or here on Etsy in the USA for example from local suppliers. It's much quicker, but buying direct from China is much less expensive! I'd recommend using bronze, copper or stainless steel, and avoid silver plated settings like the plague. After a few months selling "silver tone" or "silvery" pieces, and even including the fact that they were silver plated in the product description, I found out that customers had still expected solid silver having not bothered reading the description. Many customers just don't! A few wanted remakes, but were happy to pay for materials.
Filled v's Rubover Cabochon Settings
I wished I had used solid silver from the very beginning but base metals are great for practice. If you're looking for solid silver settings, Caverswall Minerals here on Etsy are absolutely gorgeous and I started out with these, plus you can also use our rings for filling (click here).
Rubover Settings
These days I only use rubover settings for cabochon stones like the ones I sell here. I prefer the look of the pieces and I think you have more variety in available settings (see below). You can make as many cabochons (stones) as you need to to give the client the choice… please always return the unused ones to them unset free of charge! You can offer to set the extra cabochons in metal for a little extra income though, around half of my clients at Tree of Opals choose to take me up on that. If you're making 8mm cabochon rings, for example,  The stone is completely secured and can't pop out. Here's a video showing how to make a cremation ashes cabochon then set it in a ring with a rubover technique. Here are our blogs on rubover setting techniques
You can use rubover bezel settings like our ring settings, crown point settings like our heart and teardrop necklace settings, claw settings like these beautiful dainty handmade twig ring settings on Etsy (claw settings won't give you quite so much protection as a rubover bezel, but are more adaptable to different shapes).
Finally, you can use a pre-made cabochon in closed and open-backed settings from Caverswall Minerals (here on Etsy)  like these ones, but you can't rub over the edges as they are too heavy. The advantage is that you can still make several cabochons and choose the best two with your client, then glue them in. You can add a little extra resin from behind to then secure the cabochons more thoroughly.
Filled v's Rubover Cabochon Settings
Filled setting

Rubover Setting

pros

Easy and quick to fill for beginners

You can make multiple cabochons and check your client's happy with the colour

pros

No need to find a compatible mould

Return the extra cabochons free of charge as replacements if they lose the piece
pros
If you dome it nicely, you should always have a perfectly shiny finish
Upsell extra pieces made from the spare cabochons
pros
You can still fill rubover settings like ours here 
There is less pressure for you making a cabochon than there is filling a setting
pros
Caverswall Minerals (here on Etsy)  sell a nice selection of classic
fillable settings
A more professional finish with very secure cabochon that can't just pop out
cons
Can't easily be removed once cured to remake. You may need to
drill out the resin or try to heat the setting to get it to pop out
You need a rubover setting, which can be harder to find
We sell some here and have links to more here on Etsy
cons
You can't make check the design with your client first. You will feel
pressure to get it right first time
You will need to use a curved burnisher (easy to learn) or bezel pusher
cons
The resin can pop out even when you've scored the  inside the setting,
heartbreaking for your clients if it's sentimental!
You need a compatible mould, we sell them here though!
In conclusion, although there are benefits to filling a setting with resin, I much prefer using a mould to produce cabochons (stones) which we then set in a rubover bezel setting. I make and sell the moulds and compatible settings, and I'm working on more all the time. If you have a request for a certain shape and would like to work with me on that style of setting and compatible mould please get in touch. We can make the setting available to everyone, or custom only to your business (exclusivity) for an extra fee. We work with a fantastic production company in Israel, a casting company here in the UK and I love to make settings by hand. Filled v's rubover cabochon settings is a topic that comes up in our breastmilk and memorial jewellery group regularly!

Please let me know if you can add anything to this blog. I'd love example photos of filled settings please.


Please see our individual country-specific blogs for shopping supplies: United Kingdom, USA, Australia, Canada (coming very soon), other EU countries (coming soon) and non-EU countries (coming soon).
Spellings – this blog is written in the United Kingdom so my spelling is in English. I'll try to add alternatives after but our spelling of jewellery is correct here.  Mould (UK) mold (US).
This post contains affiliate links that, meaning when if you buy one of our recommended products I receive a small amount of commission at no extra cost to you.

Filled v's Rubover Cabochon Settings for making keepsake, memorial and breastmilk jewellery.