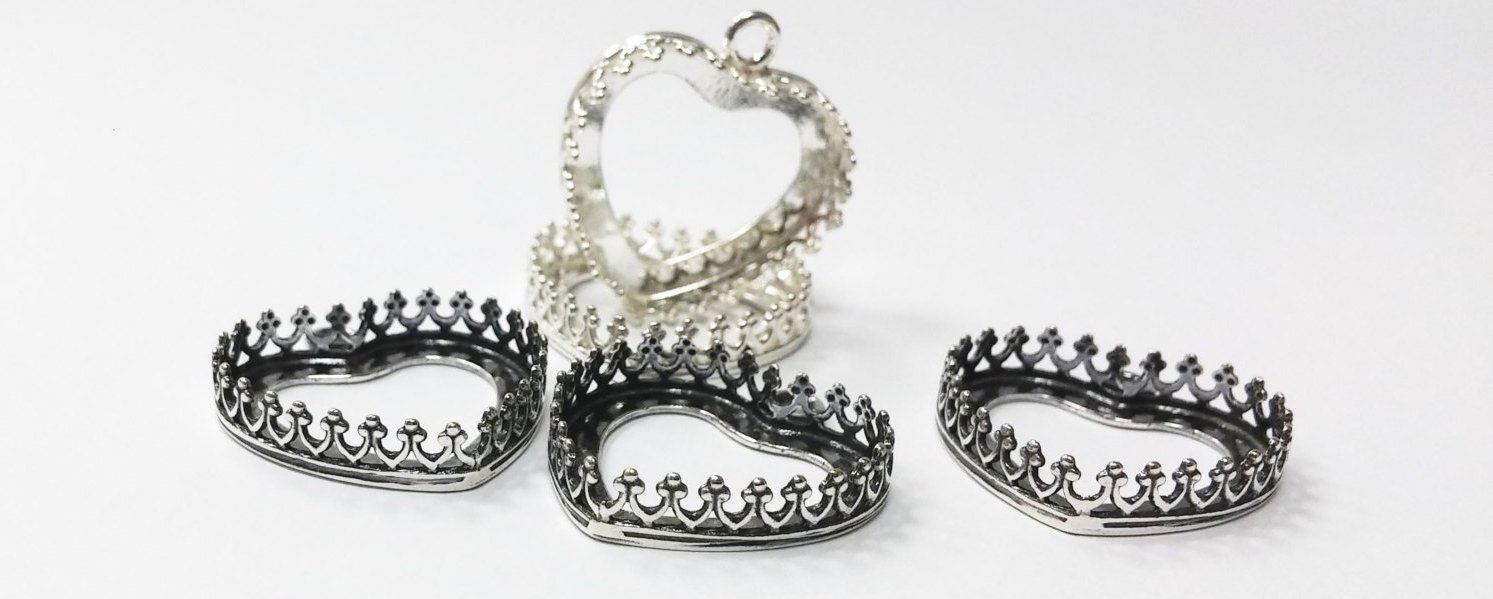 People always ask me the best place to get settings for resin jewellery and the easiest place is most definitely Etsy. It's a mixture of mass-produced and handmade and if you know where to look, it's full of gems (in the literal and not-so-literal sense!) My rings and pearls over at Tree of Opals are handmade from scratch, our charm beads and heart necklaces are cast and stamped for us.
Please see our individual country-specific blogs for shopping supplies: The UK version of the list is here, USA, Australia, Canada, other EU countries (coming soon) and non-EU countries (coming soon).
1. Caverswall Minerals
Caverswall Minerals on Etsy (click here) is the very best place to look for fillable settings. You don't need moulds and can use a pipette to drip in resin, then swirl in colours and your clients' elements such as breastmilk powder, cremation ashes, umbilical cord or dried placenta. You can work in layers to achieve depth and include pieces of hair and fur. You can even use our cabochon moulds where possible, meaning you can make a few cabochons and choose the best which you'll then glue into the setting. This cufflink setting can be filled with resin or you can use our 18x13mm cabochon mould to make three of four resin "stones", choose the best two then glue them in the setting with E6000 glue.
2. Quality Findings Market
Quality Findings Market or QFM on Etsy is my absolute favourite. Their solid silver 18x13mm teardrop settings are compatible with our 18x13mm teardrop moulds. Just make sure you keep the edges neat and use a bezel rocker to push down the crown points once you're happy.
When I first started using their crown settings I was using a China cheapie mould, the pink faceted one with multiple depressions of faceted hearts. The problems with facets are that they're harder to do another coat on as you lose the definition. Plus opaque moulds are virtually impossible to use with a UV curing resin unless you work in very thin layers.
3. ZDP Findings
ZDP Findings are another great place in Israel to purchase settings in solid sterling silver, gold-filled and base metal. They're a family run business and their customer service is second to none! I love these 14mm round heart point solid sterling silver settings which are perfect for setting 14mm round cabochons. Please have a look at their page for inspiration and remember that crown and heart points are ideal for beginners because they're easy to push down with your fingers. If you're using a bezel cup rings like these there are three methods of setting which I'll cover in more detail in a blog with photos, but you can fill them with resin and cure, you can glue in cabochons, or you can set the cabochons by gluing then rubbing over the bezel with a bezel pusher (I recommend getting a set and finding your favourite to work with, mine is the curved one with the point).
If they have any settings you'd like to work with but can't find a mould to suit, just give us the link to the setting and we'll try our best to create a custom mould for you.
4. SilverFindings925
SilverFindings925 are based in the Ukraine and have some lovely, unique and interesting settings ideal for memorial and breastmilk jewellery. Use our 10mm round cabochons made with our 10mm cabochon mould with this
10mm round claw setting silver ring.
Don't forget, claw settings aren't too forgiving so you have to make sure your edges are super-neat! The claws won't cover up much of the resin, so I find it's more prone to knocks and scrapes at the edges, but I know a lot of keepsake and DNA artists and their clients love the look. It's completely up to you, whatever works for your business! SilverFindings925 also sell some pearl dangle earring settings that you could try with our 16mm sphere moulds. Make sure you place the pouring hole at the bottom and dome it carefully, letting the client know the bottoms won't be perfect.
5. Armoured Supply
Armoured Supply
Settings for resin jewellery Etsy
Setting Problems
I had an issue recently with a solid 14ct gold wishbone setting I'd made where the client complained they could see the doming on the pearl. I refunded them in the end because I should have mentioned this specifically in the T's and C's, and it was just before Christmas and I didn't want to let her ruin my holidays, so don't forget to keep your business safe by telling clients things like this in advance. Put in your T's and C's and product description phrases like "you will see air bubbles in most of our resin work", and, "pieces are set by hand and you may see small amounts of glue and scratches in the metalwork where this was done". If the client doesn't like it, they can order elsewhere but you won't be losing out on business because these are the people who demand refunds. If they can find someone who can promise perfection, let them go!
You'll learn which settings work for you, that you're comfortable working with and which your clients love, but try to keep some back for refunds if you've forgotton to mention something like that and the client is being unkind. It's never worth risking your mental health and joy you find in your work for someone who is just trying it on (and probably expects a refund and to be able to keep it). Settings for resin jewellery Etsy can be hard to judge until you get them in your hands so what I like to do is charge a small amount (ideally to a friend or someone who knows it's a tester slot) for the setting to cover your costs, and give it a try. Take some pics and use it to advertise the piece on social media. If a customer asks for a custom setting you might ask them to purchase it then just charge a small fee to add a cabochon, you can still take photos and buy it yourself next time.
Please note, this blog contains affiliate links meaning we may receive a small income based on your purchases after clicks with no extra cost to yourself.