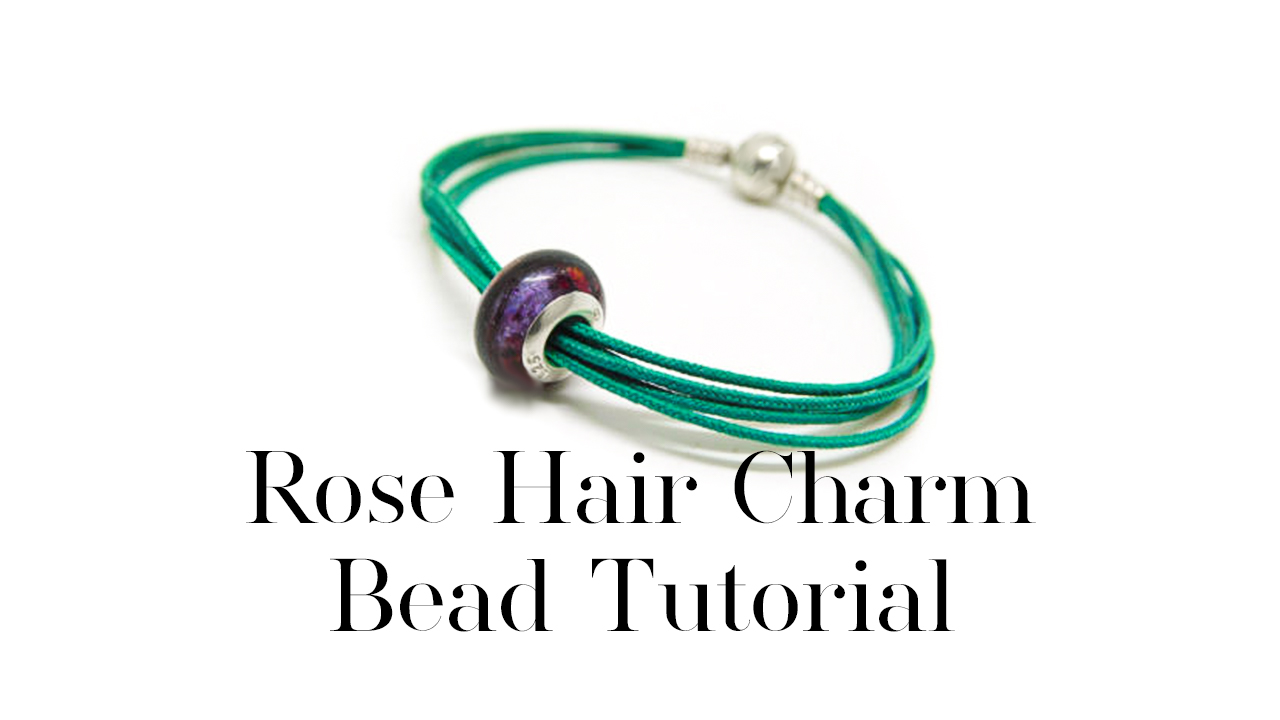 This video will show you how to make this resin lock of hair charm bead from start to finish. We're adding rose petals for their sentimentality. You can read more about working with hair in our lock of hair jewellery making blog here (click).
Please note, the competition has now finished.
How To Make A Hair Charm Bead
You'll need the following supplies, please note we have specific supplies lists for the UK, USA, Australia & Canada
you might also need a:
rose petals
a rag
rotary tool
carbide rotary burr bit
E6000 vegan glue
a silver polishing cloth
I recommend you usa a heavy duty safety mask when grinding (sanding) resin!
I like to use an LED UV lamp to save energy and make sure the pieces don't get too hot. This one has a 99 second low heat setting
Some of the supplies in this Making A Hair Charm Bead blog are optional, such as the rotary tool and rose petal.
PREPARING THE HAIR
Firstly, put on your gloves. Sometimes I like to double up with gloves but working with a lock of hair is fiddly so just wear one pair. Take some rubbing alcohol and put it on a rag, take a charm bead mould and wipe it over. Don't forget, it's better to replace a mould when it's starting to get dull than spend hours trying to get a perfect shine back on your finished piece.
There's no need for a clear layer with a charm bead or pearl because dust doesn't settle in the mould. Take the label backing paper and a cocktail stick then prepare the lock of hair. Some clients will send hair from a loved one who has passed away, please ask them to never send in the whole amount in case it's lost in the post. Ask your client to tie the lock with a little bit of cotton and place it in a well-labelled bag. If they send it in tin foil they may fold it over which creases the hair and makes it harder to work with
Divide the lock of hair into two, use the larger piece for your first attempt and if for any reason this turns out badly you have some hair left to work with. Place it on the label backing paper and check it for irregular strands and you can send these back to the client with the remaining hair. Now take some clear UV resin and pour a dot on the corner as the first dot coming out will often have a small air bubble, then pour a small amount of resin over the hair
Use the cocktail stick to smooth it out, making sure the hair is completely saturated with resin and remove any bubbles. Cut the edges of the hair at an angle so they look neat
PUTTING THE HAIR IN THE MOULD
Use the cocktail stick to carefully pick up the hair and put it on your mould, then gently tease it in. Be careful not to poke the mould with the cocktail stick or you'll get dots on the finished charm beads. This part can be very fiddly and takes practice so don't worry if you don't get it right to begin with. Perfect the technique with your own hair and that of friends and family.
Once the hair is in, slowly move it around to remove any air bubbles trapped in the strands. They will look like silver grains and if you gently push on them from behind the hair they will come through to the back.
FILLING THE MOULD
Squeeze a dot of resin out, as the first dot may have an air bubble, then very slowly fill the mould completely with resin to the very top. Prepare any petals by cutting them a little smaller. They must be completely dry. These were a gift from my husband, whose hair I'm using today, so they weren't perfectly dried.
Usually I dry flowers and petals surrounded by silica gel in a bowl placed on a reptile heat mat. If you'd like to see a video with some drying techniques please let me know in the comments below. Gently poke your petals into the resin-filled mould. You will get a lot of air bubbles which you can remove with patience.
This technique would not work with a translucent or transparent mould, only water-clear so that you can see what you're doing. When all the air bubbles are gone you can add a drop more resin so the mould is completely full
ADDING COLOUR
Change your gloves, then using a fresh cocktail stick add a small amount of resin sparkle mix on top of the mould. Press it into the resin, focussing the colour around the centre of the mould and trying not to mix it around the petals or near the hair. Again it takes a lot of practice and perseverance to get the colour in the right place. Remove the bubbles by pressing the sides in and teasing them out with the cocktail stick. Push out some of the excess resin around the pouring spout. You'll learn the perfect amount to leave in meaning you don't have to build up the charm but you don't have too much excess to remove
CURING THE CHARM BEAD
Put your mould under a UV nail lamp for 99 seconds on low heat. This UV lamp is perfect because it's low energy LED with a low heat mode. Allow it to cool down, turn it over and cure for another 99 seconds, then cool it completely again. Use this time to clear up your work station, put your client's hair back into their bag and wipe over the work
DEMOULDING THE CHARM BEAD
You should be able to remove the charm bead from the mould fairly easily but if you struggle at all, do it in a bowl of warm water with a little washing up liquid or dish soap and it will slip out nicely. Check for imperfections and pick off any excess resin from around the pouring spout that will come off easily. If the pieces are too big and you force it, you might crack the charm bead. Use a rotary tool with a carbide rotary burr bit and make sure you wear a good quality mask. Remove the excess resin then put a little rubbing alcohol onto a piece of cotton wool pad and wipe the charm bead over to remove any stickiness.
ADDING THE INSERTS
Check the inserts fit nicely and cover the sanding area, then get some E6000 glue which is made without animal ingredients. Use a fresh cocktail stick to apply some glue to the inside of the insert, then apply some to the area on the charm bead that it will cover. Put the insert on and repeat with the other side
LEAVE TO DRY
The charm beads with our inserts are perfect for most charm bracelets and as you can see here, it fits perfectly on my own Pandora bracelet. You can photograph your cremation ashes jewellery a number of ways
Here's an example using bogwood and one using a plain white background
GENUINE SOLID SILVER INSERTS
One final and very important point to remember is that not all 925 stamped charm beads are solid sterling silver. The insert, or grommet, on the left here with two 925 marks is silver plated but they're sold online as solid sterling silver
Our inserts on the right with the heart are solid sterling silver and won't ever rust. Clients prefer good quality, especially for keepsake and memorial charm beads.
Now relax and do some crafting