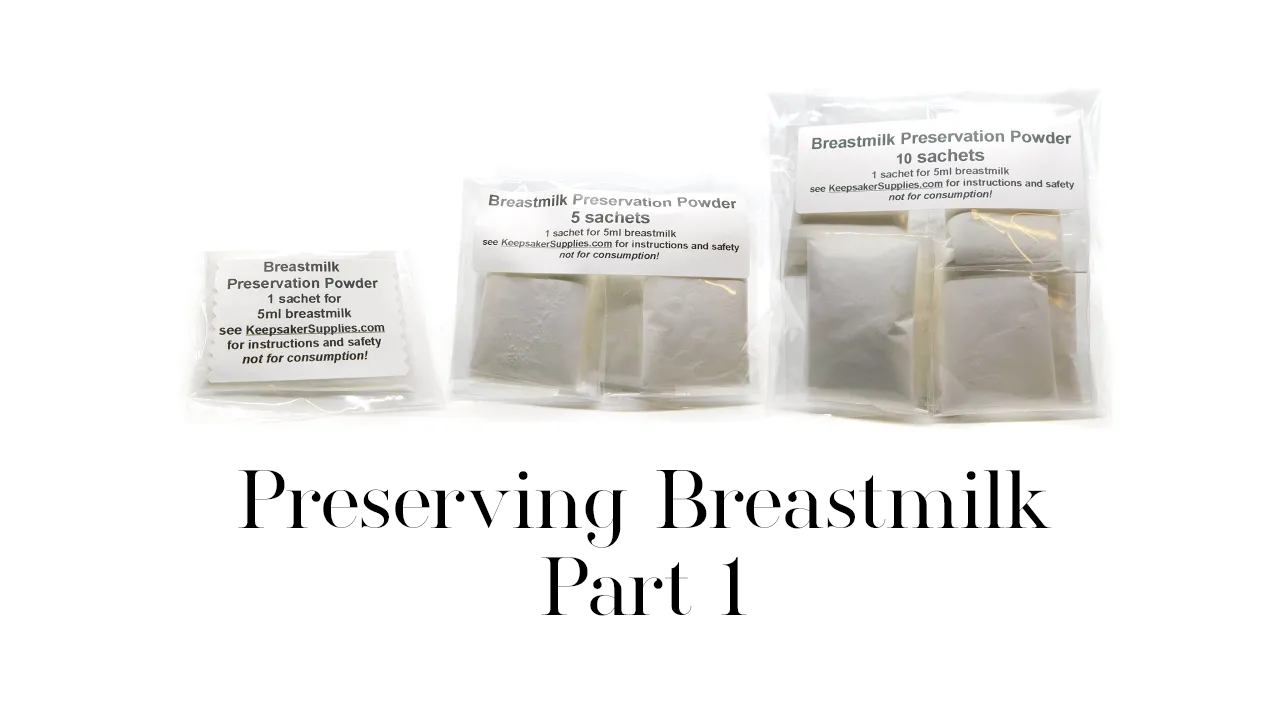 Preserving Breastmilk with Breastmilk Preservation Powder from Keepsaker Supplies is a great way to make breastmilk jewellery affordably. You'll need a pack of Breastmilk Preservation Powder exclusive to us here at Keepsaker Supplies or one of our one of our DIY breastmilk jewellery kits and a few simple supplies to make breastmilk jewellery and you can add little extras to personalise your clients' pieces. >>>Breastmilk preservation powder FAQ's are here<<<
We include these PDF downloadable instructions with the breastmilk kits for preserving the milk. After your first order you'll receive a reasonable 15% off future purchases*
Learn how to make a breastmilk heart necklace with this video,
the full blog is here
with all the supplies you'll need
Preserving Breastmilk with Breastmilk Preservation Powder
Send your client a breastmilk sending kit, see our Worldwide Sourcing Guides here – including the UK, USA, Australia and Canada (more countries coming soon) for details on the tubes we recommend, which are also suitable for heating directly although that's not needed for this method.
You'll need the following supplies
*Some of the supplies in this Preserving Breastmilk for breastmilk jewellery blog are optional, such as the double boiler and the silica drying gel. They're marked with an asterisk and are completely optional but recommended
PREPARING THE BREASTMILK
Make sure your client has sent in the right amount of milk
We recommend asking them to send two small tubes each with around 5ml milk. If your client has low supply you may ask them to keep the second tube in their own freezer at home, in case the first is lost in the post. If you burn the milk, for example, you can then ask them to send the second tube.
You can also ask them to send 15ml in a milk storage bag; ask them to measure the milk in a bottle and not to rely on the markings on the bag because they can be deceptive
When a bag of milk arrives, divide it into two small bags and label it with the client's name and order number so you can keep one back in the freezer
PRESERVING THE BREASTMILK
Put boiling water in the bottom saucepan
Double check your client's name and order number and put the tube in the water to defrost for a minute
Remove the milk and give it a gentle shake
Bring the water to a boil
Put the top bowl on the saucepan, allow to heat and add the breastmilk
When the milk is hot, add the powder and immediately begin to stir
It will fizz up then thicken gradually
Take it off the heat when it's thick and don't let it dry out too much
DRYING THE PRESERVED BREASTMILK
Spread the preserved wet milk paste onto the label backing paper or baking parchment labelled with the client's name and order number
Leave this to dry somewhere safe. It depends on the humidity and temperature of the room as to how long this takes, anywhere from 24 hours to a few days
When preserving breastmilk with Breastmilk Preservation Powder I like to place the label backing paper in a takeaway container over silica drying bead packs
The drying gel will remove the moisture quickly and the gel can be refreshed in the microwave from time to time to remove moisture
Clean the bowl or bain marie
We like to store the takeaway containers in a storage drawer unit until dry
GRINDING THE PRESERVED DRIED BREASTMILK
Put a small amount of the preserved dried breastmilk flakes, as much as you will need for the client's order, into a clean white pestle and mortar
Grind it as finely as you can.  The finer it's ground, the better it will suspend in the resin and the more opaque the piece will look
Put the rest of the dried milk into a double-sealed bag labelled with the client's name and order number, along with a silica sachet and reserve
LEFTOVER BREASTMILK
Please keep the remaining frozen breastmilk as a backup, we recommend two years
At Tree of Opals we had a small under-counter freezer which was plently large enough to store three years worth of breastmilk (thousands of 10ml tubes)
If you allow your clients to send in large bags of milk, such as 10oz full-to-the-brim bags, you will quickly run out of room
If you send clients a breastmilk sending kit with two pre-labelled tubes, they will always be neat, well-labelled and organised
If you are charging the client a preservation fee you may agree to send them the rest of the dried preserved milk, but most artists keep it in as a second back-up in case they need to remake the piece in the future
WORKING WITH BREASTMILK POWDER
You can work with breastmilk as you would any powdered substance like cremation ashes or resin sparkle mix
If you're working with epoxy resin you can pre-mix it in a 20ml disposable shot glass or reusable silicone mixing pot, then use a pipette to transfer it into the mould
If you're working with UV resin, you can mix a little of the powder with resin on label backing paper with a lollipop stick to form a paste, then fill your mould with resin and add the paste
You might like to add a bit of one of our exclusive Breastmilk Resin Sparkle Mixes (Pearly Powders), our Unicorn White resin sparkle mix, or even a tint from one of one of our highly pigmented resin sparkle mix blends
All of our sparkle mixes contain ethical micas (free from child mining) and plant based glitters
UV resin is much faster, but there's an increased risk of yellowing especially with clients who don't follow the care instructions!
However, some people (like myself) are allergic to epoxy resin so we can only offer UV resin and are very strict about aftercare
Keeping the milk back for at least two years, frozen and dried, will mean you can replace any pieces that have turned due to resin issues
We'll do some videos showing both types of resin in this series so please subscribe to our channel and hit the notifications bell
My next video will be how to make a breastmilk bead for Pandora bracelets with a Breastfed ♥ With Love ♥ Core. I'll be using one of our DIY Breastmilk Bead Kits which has Breastmilk Preservation Powder and most of the supplies you'll need. In the future I'm also going to be doing some videos with do's and don'ts for those of you who want to investigate your own breastmilk preservation methods. My own baby Lexi is is just a few weeks old so I'll be showing you a video preserving our placenta, her umbilical cord and colostrum and using those in jewellery.
Now relax and do some crafting breastmilk preservation powder video
Making Breastmilk Jewellery Intro (Part 1 of 5)
Making Breastmilk Jewellery: Methods To Avoid (Part 2 of 5)
Making Breastmilk Jewellery: Methods That Work (Part 3 of 5)
Getting Started Making Breastmilk Jewellery (Part 4 of 5)
What You Need To Make Breastmilk Jewellery (Part 5 of 5)
Breastmilk Preservation Powder Instructions
Breastmilk Preservation Powder FAQ's
Please note, this Preserving Breastmilk blog contains affiliate links meaning I receive a small income based on your purchases from Amazon and Etsy etc. This affiliate income is really helpful to me to support my family and if you'd like to know how I set it all up please get in touch (blogs coming soon!).
Nikki x
*terms apply – some products aren't included such as settings and findings, sorry.