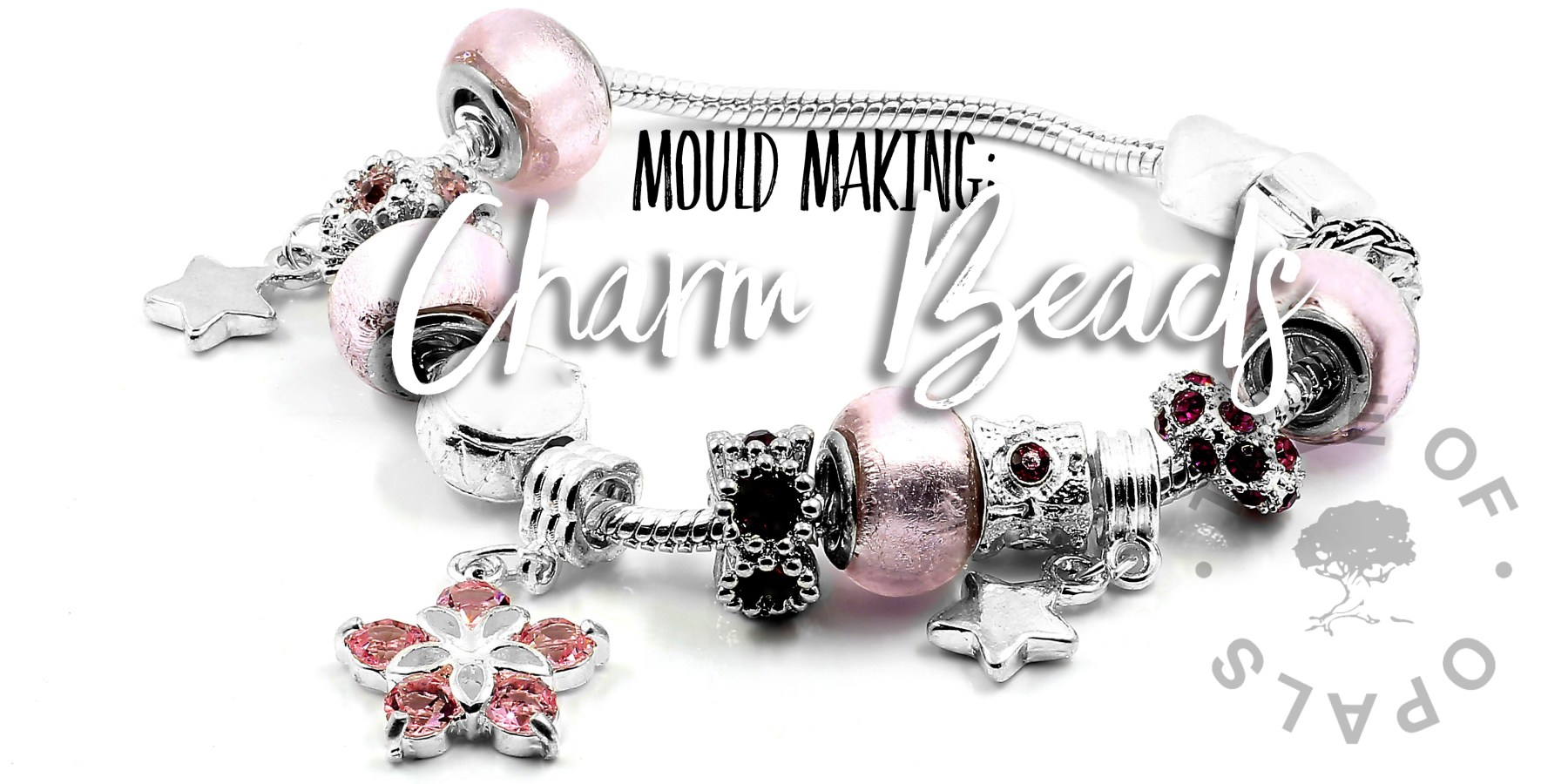 Making Moulds: Charm Beads for European Bracelets
Charm Bead Mould Making Tools
Making charm bead moulds is very similar to making spheres (you can read about those here) but a little more complicated. It's really important to get the right size and shape for the plasticine dots to avoid the pouring spout being too big, too small or too fragile.
Below is a chart of silicone types and you can see we recommend water-clear silicone for charm bead moulds:
To prepare your mould masters (the bit you pour the silicone into) you need a few supplies. I use a specific size for our Tree of Opals Charm Beads that fit our solid brandstamped cores, but you can use any size you like. I recommend you buy at least 30 mould masters; glass charm beads, you can use whichever shape you like but try to stick to it for customer continuity.


I recommend getting a digital calliper for high end jewellery for mould making so you can tell clients the exact dimensions of the charm beads.
You can skip a lot of the work here by cutting out little circles of double sided tape and popping the sphere directly on top but the trouble is they tend to move around, and because the silicone around the hole is very thin it can tear easily, no matter how tear resistant your silicone. I like to secure the masters on a little platform that's the right width and height. It's a bit fiddly but worth the effort for a decent mould for high quality jewellery.
I find any bubbles in my resin come up into the pouring spout with a little persuasion (more on resin another day). For this you'll need plasticine! Raid your kids' craft stash or buy some but trust me, Playdoh won't work. It dries out and the same goes for other mould making clay. Blu Tack is too hard to work. You could try an oven bake polymer clay like Sculpey if you have it, because it won't dry out, but I think plasticine is a little less expensive.



Using Plasticine in Making Moulds
I take a piece of label backing, because we get through tons of it with our shipping labels and order notes. It's totally non-stick which helps when transferring the little "dots". Roll a piece of plasticine out about as thick as 6 playing cards. Precious metal clay artists probably have those already taped up, everyone else don't worry about buying cards, you'll find the perfect thickness as you go or you can just get a cheap adjustable rolling pin.
For charm beads you need the dot to be ever so slightly bigger than the opening of the charm. The openings are normally 5mm so I use a 6mm stainless steel hole punch to cut out the dots and put them aside. Cut out as many as you need then prepare your 20ml plastic shot glasses (it's really important to get the 2cl or 20ml plastic ones, especially if you're using the expensive water clear silicone, because a 30ml container will need 10ml more resin. If you're making 20 moulds, that would be an extra 200ml or 7oz or silicone. I prefer not to have too much silicone in my moulds because it gives me a clearer view of my silicone cast and the finished piece is easier to remove.
I used to use an additional single dot on the inside of my own donut shaped charm moulds and letters for other shapes (SL, S, M, L). Now I don't worry because they're the only kind I make, but we've just started using 11mm spheres as standard instead of 9mm and my new 11mm ones I've made for the Mould Making Spheres blog I used a pair of pinking shears to cut the bottom so they look different to my 9mm moulds. Pinking shears are great for making cloth baby wipes and family cloth from rags and have saved me a fortune over the years…
Transferring Charm Bead Masters
Give your charm bead master a good polish with a lint-free polishing cloth like these then use a cheap paint brush to fit inside the master's core and push it up. Put the round end of the paint brush into the dot enough to pick it up and transfer it to the shot glass. Press the dot right down onto the base of the glass and then gently push the master on top of it, without squashing it down too hard.


Please see our blog about silicone to learn how to calculate the silicone volume, weigh, mix, de-gas and pour, and how to finish the moulds off.
Using Moulds To Make Charm Beads
You can see my own charm bead designs here and I spend a lot of money on my brandstamped cores. I'm planning a blog about finishing and setting resin jewellery soon but I just quickly want to say that even if a charm insert/grommet is 925 stamped that doesn't guarantee it's solid sterling silver! If you're getting 50 inserts for $5 they just aren't, sorry. The charm bead cores you need are 5mm hole ones, which have a lip that's 1.2mm. Sadly that's not very thick so you need to be careful. I used to sell inserts with a 3mm lip with a heart on but had to stop due to my chronic fatigue. If you want lots of practice, instead of buying silver plated (it peels off and clients rarely buy it on purpose) you could try brass inserts.


I'm currently writing a series on making keepsake jewellery:
How to Make Breastmilk Jewellery
How to Make Cremation Ash Jewellery
How to Make Lock of Hair Jewellery
Please use the blog signup link below to get an email notification when we post new blogs, and please comment if you have any questions or feedback. Feel free to share this blog far and wide including resin and jewellery making groups (with admin permission of course).
mould (UK) = mold (US) thanks for the heads up Robin! Mwahhh x
calliper (UK) = caliper (US)
jewellery (UK) = jewelry (US)
This blog contains affiliate links which means that we may earn a small commission if you buy one of our recommended products and services, at no extra cost to you. I use these to buy extra books for Ayla and Bastian.
Our links should work for the following countries to find a suitable product. United Kingdom, Canada, Deutschland, France, España, Italia, Japan. If the link does not work please contact me so we can help you find what you're looking for.