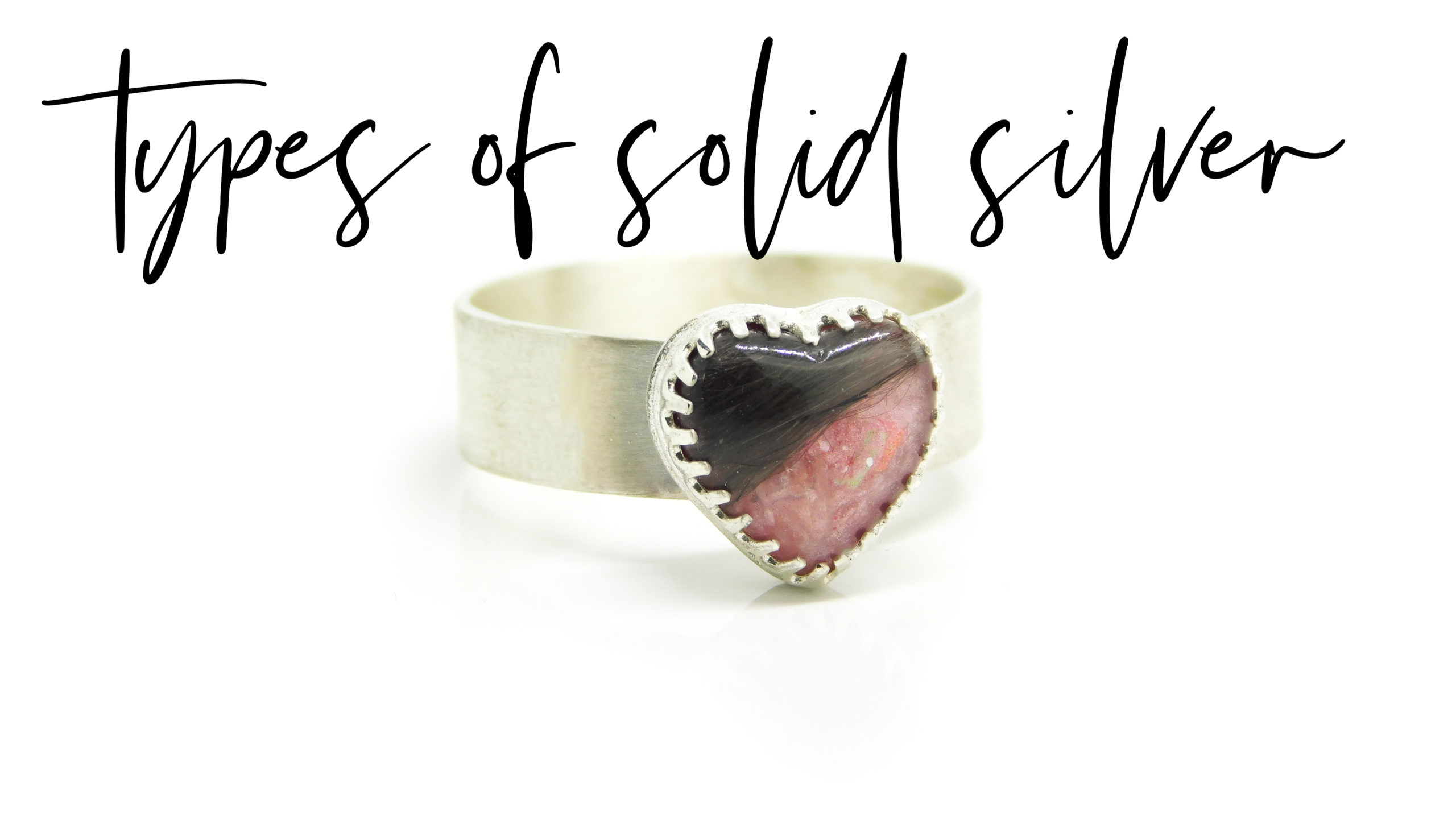 There are many types of solid silver, and we have explained the basics below. Sometimes you will receive a complaint and ask us, "Why Is My Customer's Ring Turning Their Skin Black or Green?" This blog explains the basic metallurgy (metal composition) of various kinds of silver, how or when silver needs to be stamped and hallmarked (and how to advertise it for sale). We'll also explain how silver reacts to different customers' skin types and atmospheres, including an explanation of solid silver turning skin black or green.
Types of Silver
Silver Plated
You will notice that the pieces look beautiful at first but the silver will eventually start to wear away or flake off. Silver is applied in a very thin layer on top of a cheaper metal, such as bronze or copper, and when it wears off you're left with the base metal which will usually discolour a customer's skin and look like it's rusting or going pink. When you're first starting out as a breastmilk jeweller, you'll find silver plated findings more affordable and some of your customers may not mind receiving it, so long as you're open and honest about the metal type. The problem is, as clear as you are in your product descriptions, many clients will never bother to read them and will assume you're using solid silver (even at very low prices). Here at Keepsaker Supplies, we recommend you use base metal findings like these bronze open bezels for your practice and budget pieces. This is the first piece I ever made, a bronze placenta heart necklace, and I took it on national TV and This Morning presenter Holly Willoughby said it was gorgeous! There's no need to use silver plated findings.

Nikki's first piece – placenta heart open backed brass pendant, as seen on This Morning and loved by Holly

A word of warning – many cheap findings from China will be "925 stamped", like these bead inserts, but that doesn't guarantee they are actually 925 silver! If in doubt, scratch a bit off in an inconspicuous area and leave it in water to see how it reacts, or use a silver testing kit like this one on Amazon.

charm bead insert comparison – fake silver plated (left) and genuine solid sterling silver (right)
925 Sterling Silver
Probably the world's most common "solid silver" is sterling silver. It's compromised of 92.5% pure silver, the other 7.5% is usually copper. The copper is added to pure silver to strengthen it (silver is quite a soft metal). It is less expensive than some other kinds of silver but is easy to work with, readily available and strong. The drawbacks include ethical concerns about the way the silver was gathered (we always used EcoSilver, which is recycled, wherever possible), this Guardian Article explains some of the problems of mining silver. Sterling silver is notorious for being prone to firescale (a discolouration that occurs during brazing or soldering) and tarnishing/going black or green on a customer's skin. Our bead cores and inserts are made with EcoSilver (sterling) and sometimes we need to use sterling silver bezel cups on our 935 rings, depending on availability.
935 Antitarnish Silver (Argentium or White Silver)
Silver with a purity of at least 93.5% silver mixed with other white metals (not nickel) and some copper is known as 935 silver. The silver we use for our ring shanks and domed headpins is Argentium silver and we are a recognised Argentium partner. Our cast items, such as the 10mm heart bezel cups are cast in a combination of our own Argentium silver scrap and another 935 "white silver" alloy. Our solid silver items are therefore generally more tarnish resistant than sterling silver, but they do still contain copper and can occasionally tarnish depending on the way they are worn (see below) and because we use sterling silver bezel cups and solder paste. We like to use this 935 silver because it's ethical, brighter and shinier than sterling silver, less prone to tarnish and easier to work with.

textured band ring in Argentium silver

999 Pure Silver
Silver that is 99.9% pure is common to see in some jewellery designs especially from precious metal clay artists. It is quite a soft metal so not ideal for jewellery unless it's quite thick because of the softness. It doesn't tend to tarnish but some customers can still be allergic to pure silver. We try to use pure silver for our bezel cups because they are easier for rubbing over cabochons.
Silver Hallmarks, 925 Stamping and Descriptions
Silver Hallmarks
In the UK, according to the Hallmarking Act 1973, individual items made of solid silver must be hallmarked if they are equal to or above 7.78g in weight. If you have a 7g pendant and a 5g chain then neither need to be hallmarked so long as they can be separated without the use of tools. None of the items available for sale on Keepsaker Supplies at the time of writing are 7.78g in weight or higher, so are not required to be hallmarked. You may find the weights in other countries lower, so please double check with your country's assay office. Our items are sold wholesale, so it is your responsibility to have them hallmarked if necessary! Our parent company, Tree of Opals has been a registered sponsor with the Birmingham Assay Office since 12th October 2016 and here is our dealer's notice.
925 and 935 Stamping
Solid silver items can be stamped as a guide to the metal purity, this is not a required! A 925 or 935 stamp is optional and different to a hallmark. As we've noted above, a 925 stamp is not a guarantee that an item is solid silver! Any item that is 92.5% silver or higher can be stamped 925 as a guide to the purity of the metal. We prefer to stamp our antitarnish silver items, when possible, with a 935 stamp, as a guide to the purity, but they can equally be stamped 925
Descriptions
In the UK, for an item to be advertised as silver, you should include the fineness of the silver as advised by The British Hallmarking Council here, even if the item is light enough not to need hallmarking (see below). You should be on the safe side and call your solid silver pieces 925 silver but explain that sometimes they will be stamped 935 to show they are mostly antitarnish silver. Other countries' rules differ, the silver we sell here at Keepsaker Supplies is sold as "partially finished", so for non-UK customers you should enquire about restrictions for selling silver in your country.
Solid Silver Turning Skin Black or Green
You probably should cover this question in your jewellery care instructions and your terms and conditions, you could even write your own blog to go into depth. One of the first things you need to do as a breastmilk jeweller is educate yourself about the basics of jewellery care, both for resin jewellery and precious metals. We're covering resin jewellery care in another blog.
For silver (whether sterling or antitarnish) you should always be aware that some customers will be more prone to their silver causing discolouration, especially on rings. A simple Google search will show you that solid silver can turn black or green and that doesn't mean it's "fake" or "low quality" or "silver plated". Even 935 antitarnish silver can tarnish, especially as we use sterling solder paste and bezel cups from time to time. There are various factors that can exacerbate tarnish and copper transfer, such as the heat and humidity, how much the customer sweats (and the pH/composition of their sweat!), whether they use hand lotion or alcohol gel, how much they wash their hands and the soap they use. Tarnish is more of a problem in 2020 than ever before with people handwashing more frequently and using alcohol gel because of the coronavirus.
Why is the client's ring tarnishing when others aren't? The clients' other rings are likely to be rhodium plated if they are mass-produced or perhaps covered with Renaissance Wax which can help prevent it. We don't use Renaissance Wax as it has a very strong chemical smell which some clients find off-putting.
Reducing and Resolving Tarnish
Customers can reduce the risk of their silver tarnishing by keeping their hands dry, removing their rings if they need to be using alcohol gel, removing them for showering, bathing, swimming, saunas. These things are necessary for keeping resin from yellowing too quickly as well. If they sweat lots, they can try using powder. Some foods can cause tarnish, especially eggs and oily foods.
If your customer has experienced this kind of tarnish, they can polish the piece regularly with a silver polishing cloth like the ones we sell here, or you can provide little cloths with your own branding like these, this company supplies them for Tree of Opals. They can try coating the inside of their ring with clear nail varnish as recommended in this blog, or for a longer lasting fix they can buy Jewelry Shield here on Amazon.
Customers might say, "I've worn silver jewellery before" or even "my other silver rings don't do this" but please remember that they may be wearing silver rings that are rhodium plated, which is popular amongst mass-produced jewellery companies like Pandora, or they may have worn silver in the past but have recently been sweating more or using alcohol gel. A tarnishing silver ring is not a fault, but if you do choose to remake your customer's jewellery as a goodwill gesture, we would recommend finding stainless steel or rhodium plated findings because they will be likely to experience the same reaction with any other handmade silver rings. We are not able to refund used settings due to hygeine! However, if you can remove the cabochon we may be able to refund you as a goodwill gesture if you return the setting (we recycle all of our silver to make new findings).
This Types of Solid Silver blog contains affiliate links meaning I receive a small income based on your purchases from Amazon and Etsy etc. This affiliate income is really helpful to me to support my family, especially when I can't ship orders with my new baby, and if you'd like to know how I set it all up please get in touch (blogs coming soon!). You can even be an affiliate for this website, just visit the affiliate page here to earn 10% of orders you referred here!
Nikki x