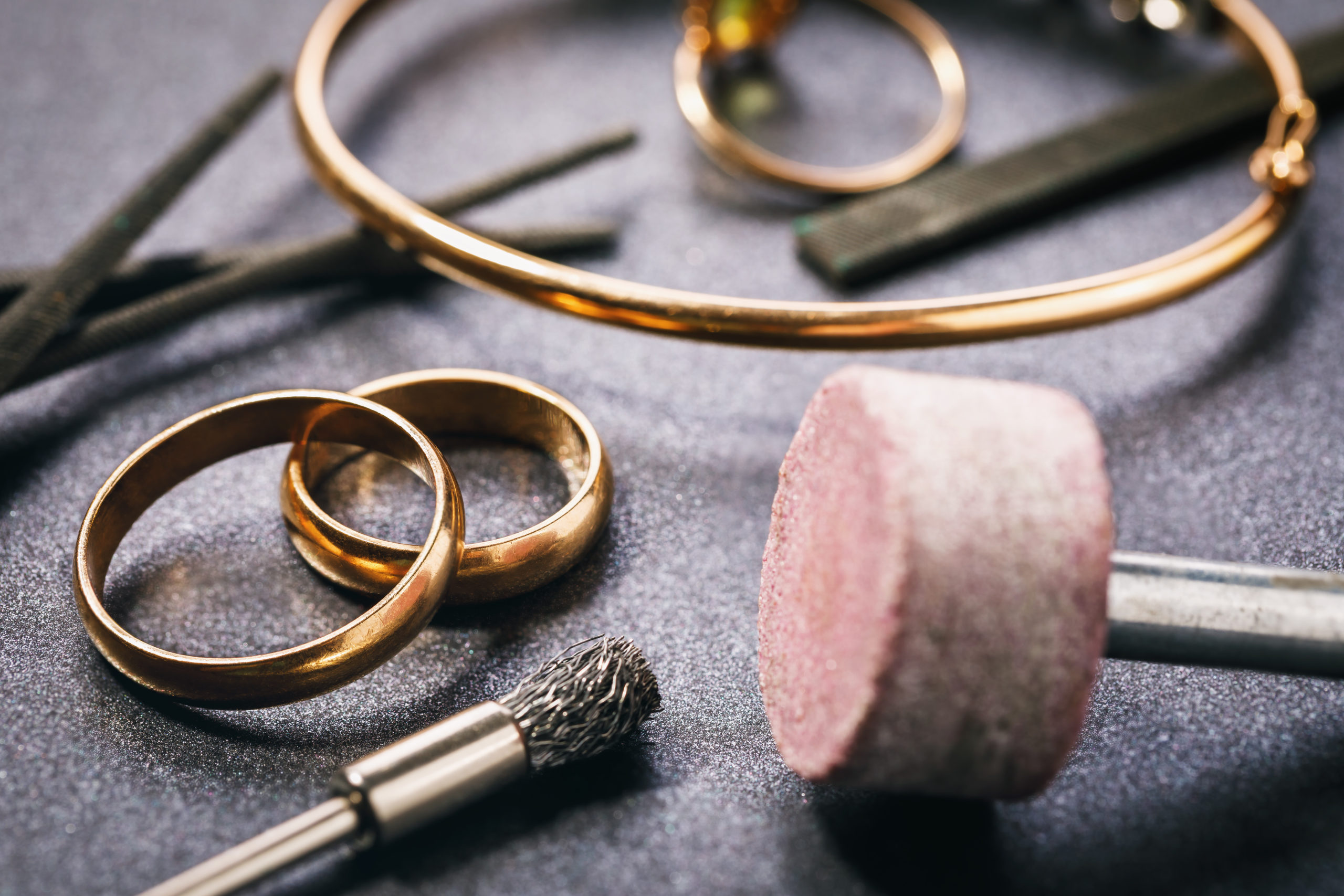 Types of Gold Jewellery Settings can be confusing. There are many types of grades of gold, and we have explained the basics below. Sometimes we're asked, "Why isn't this item hallmarked?" and we explain here. This blog explains the basic metallurgy (metal composition) of various kinds of gold, how or when gold needs to be stamped and hallmarked (and how to advertise it for sale). We'll also explain how gold reacts to different customers' skin types and atmospheres, including an explanation of gold plated items turning skin black or green.
A word of warning – many cheap findings from China will be "9ct" stamped, but that doesn't guarantee they are actually 375 solid 9ct gold! If in doubt, scratch a bit off in an inconspicuous area and leave it in water to see how it reacts. If it rusts, it's not solid gold! Or use a 9ct gold testing kit like this one on Amazon
Nikki
Types of Gold
The Difference Between Rose, White and Yellow Gold
All gold is yellow. There is no such thing as red, pink or rose gold. There are however gold alloys which appear rose, red or pink, so when we refer to coloured gold we mean coloured gold alloys. The colour of gold alloy varies with the percentage of other metals used in the alloys.

Gold is yellow and copper is red, the only two coloured pure metals. All other metals are white or grey in colour. The addition of copper considerably heightens the yellow colour of gold, the alloy passing through different grades of yellow to red-yellow, and finally to the rich red of copper, as the proportion of copper is increased. But if silver and a small amount of zinc is added to rich red copper and gold alloy then the alloy adopts the characteristic colour known as 'rose gold'.
Birmingham Assay Office
Types of Gold Jewellery Settings, Stamping and Descriptions
Types of Gold Jewellery Settings Turning Skin Black or Green
You probably should cover this question in your jewellery care instructions and your terms and conditions, you could even write your own blog to go into depth. One of the first things you need to do as a breastmilk jeweller is educate yourself about the basics of jewellery care, both for resin jewellery and precious metals. We're covering resin jewellery care in another blog.
For gold we don't often hear of tarnishing. For gold vermeil silver please see our Types Of Solid Silver blog as they are gold plated silver. You should always be aware that some customers will be more prone to their metal causing discolouration, especially on rings. A simple Google search will show you that solid gold can turn black or green and that doesn't mean it's "fake" or "low quality" or "silver plated", it's due to the copper content and is less of a worry the higher carat value the gold has.  There are various factors that can exacerbate tarnish and copper transfer, such as the heat and humidity, how much the customer sweats (and the pH/composition of their sweat!), whether they use hand lotion or alcohol gel, how much they wash their hands and the soap they use. Tarnish is more of a problem in 2021 than ever before with people handwashing more frequently and using alcohol gel because of the coronavirus.
Reducing and Resolving Tarnish
Customers can reduce the risk of their Types of Gold Jewellery Settings tarnishing by keeping their hands dry, removing their rings if they need to be using alcohol gel, removing them for showering, bathing, swimming, saunas. These things are necessary for keeping resin from yellowing too quickly as well. If they sweat lots, they can try using powder. Some foods can cause tarnish, especially eggs and oily foods.
If your customer has experienced this kind of tarnish, they can polish the piece regularly with a polishing cloth like the ones we sell here, or you can provide little cloths with your own branding like these, this company supplies them for Tree of Opals. They can try coating the inside of their ring with clear nail varnish as recommended in this blog, or for a longer lasting fix they can buy Jewelry Shield here on Amazon.
Customers might say, "I've worn gold jewellery before" or even "my other gold rings don't do this" but please remember that they may be wearing gold rings that are 24ct gold plated, which is popular amongst mass-produced jewellery companies, or they may have worn gold in the past but have recently been sweating more or using alcohol gel. A tarnishing gold ring is not a fault, but if you do choose to remake your customer's jewellery as a goodwill gesture, we would recommend finding stainless steel or rhodium plated findings because they will be likely to experience the same reaction with any other handmade gold and silver rings. We are not able to refund used settings due to hygeine! However, if you can remove the cabochon we may be able to partially refund you as a goodwill gesture if you return the setting (we recycle all of our gold to make new findings).
*Gold plated findings: we do find a lot of our Indian customers want to provide gold plated settings to their clients as a budget option because gold is seen as much nicer than silver, so long as your client is happy with gold plated, there's no need to worry.
You can find our Dealer's Notice here – e3087_AnchorCert – Birmingham Dealer Notice Updates Sep 19 Single Sided. Tree of Opals is our parent company.
This Types of Solid Gold blog contains affiliate links meaning I receive a small income based on your purchases from Amazon and Etsy etc. This affiliate income is really helpful to me to support my family, especially when I can't ship orders with my new baby, and if you'd like to know how I set it all up please get in touch (blogs coming soon!).
Nikki