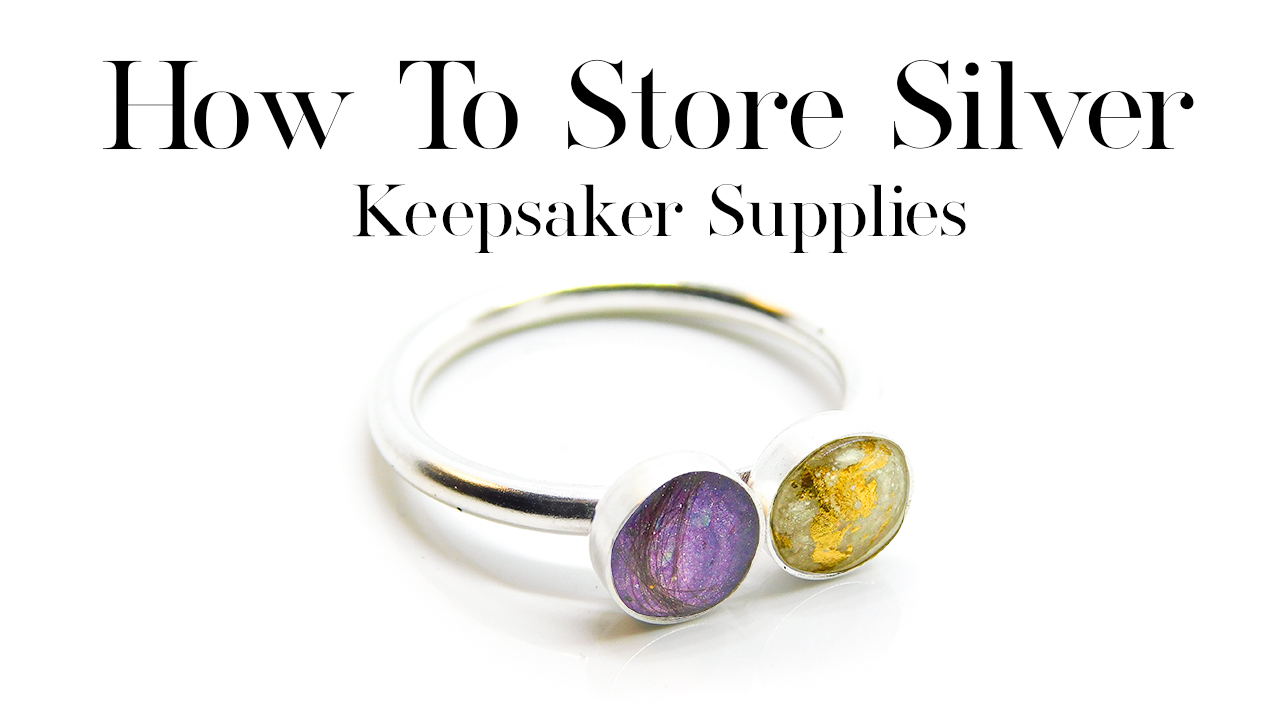 It's really important for any breastmilk and memorial jewellery artist to learn how to store silver to prevent tarnishing and scratching. When you send finished jewellery to your clients you should provide them with some care instructions, we have a free download for silver jewellery care here (and resin jewellery care here) but what does tarnishing look like and how should you store the findings and settings in the mean time? It's also a good idea to learn how to store silver so you can pass this info on to your memorial and breastmilk clients!
Here is a ring set I made a couple of months ago for a Tree of Opals client. In my packaging video you saw that I include the care instructions and a silver polishing cloth, and that the rings are always sent in an acid-free jewellery box with a silica gel sachet but why is that so vital? Why do some pieces tarnish and others don't (hint: some of them might be rhodium plated).
Here is one of our bubble rings which has been stored in the envelope it was sent in. The client hasn't done anything wrong but with a little extra knowledge you can save yourself the trouble of having to remove the tarnish before making a cremains or breastmilk ring.
.
What Causes Tarnishing?
Tarnish is caused by environmental factors including moisture and sulphur in the air. If you'd like to learn more about the causes of tarnishing and do a little experiment
this training article from Canada.ca
is incredibly helpful.
Silver… should not be kept near to or touching smoke, household paints, rubber, newspaper, wool, felt or velvet. –

Christies.com
The tarnish can be easily removed with a
silver care kit
or any dip or polish designed for use with silver jewellery.
How To Store Silver
If you don't already have a storage solution I would recommend either buying a specific anti-tarnish container or DIY. You can tape Ziplock style bags into a binder file and add silver storage strips and silica gel sachets to keep moisture away. Each piece should be polished with a silver polishing cloth on receipt then stored with storage strips – I have a few products that will help
https://keepsakersupplies.com/product-category/equipment/consumables/polishing/town-talk/
I'm lucky that my studio is warm and dry and I don't find my pieces start to tarnish for at least six months out in the open but I do recommend everyone stores silver according to the advice for good practice.
I try to work with Argentium silver (935 or 940 purity) which is slightly purer than 925 sterling silver, and sold as anti-tarnish. That means it's tarnish resistant, not tarnish proof! If you take a piece of 925 silver and a piece of 940 silver, sand them both and place them in a container with some sulphur you'll see stronger tarnish on the 925 silver – photo coming soon (please leave a comment below if I've forgotten)
It may be an environmental factor but basically my jewellery is handmade and not rhodium or silver plated so it does need to be looked after. If a piece is rhodium plated, it's not likely to tarnish until the plating has worn away; I wouldn't plate my handmade silver findings anyway because it's unsustainable when pieces need re-plating every so often! Another tip is you can use Renaissance polish to prevent tarnish but a lot of clients don't like the smell.
Why Don't You Send Silver In Storage Packaging?
Most of my clients store their silver together, so to keep costs down I don't package silver for storage; it would take lots of storage strips and single use plastic and extra time to send each piece. I'm a small business and every penny I make in profit either goes to growing my business or supporting my small children. If you'd prefer me to send your silver for long-term storage please add a note to your order.
Nikki